In any busy household, keeping on top of your laundry can be a real challenge. Anyone with a full-on lifestyle knows that it is also rarely on the top of your priorities. However, when you are cycling between work, schools and home naturally your favourite garments need to be washed at often and when it comes to school uniforms, in particular, you need a washing machine with the highest levels of performance.

Often loaded with the stains and dirt that children naturally accumulate, school trousers, shirts and jumpers often give your machine among the toughest of challenges. If needed for the next day having cycles that are quick to finish and give an outstanding deep clean are essential. With the Hoover DWOAD610AHC8 washing machine, you not only get a huge upgrade in laundry performance but also smart connectivity and class-leading efficiency.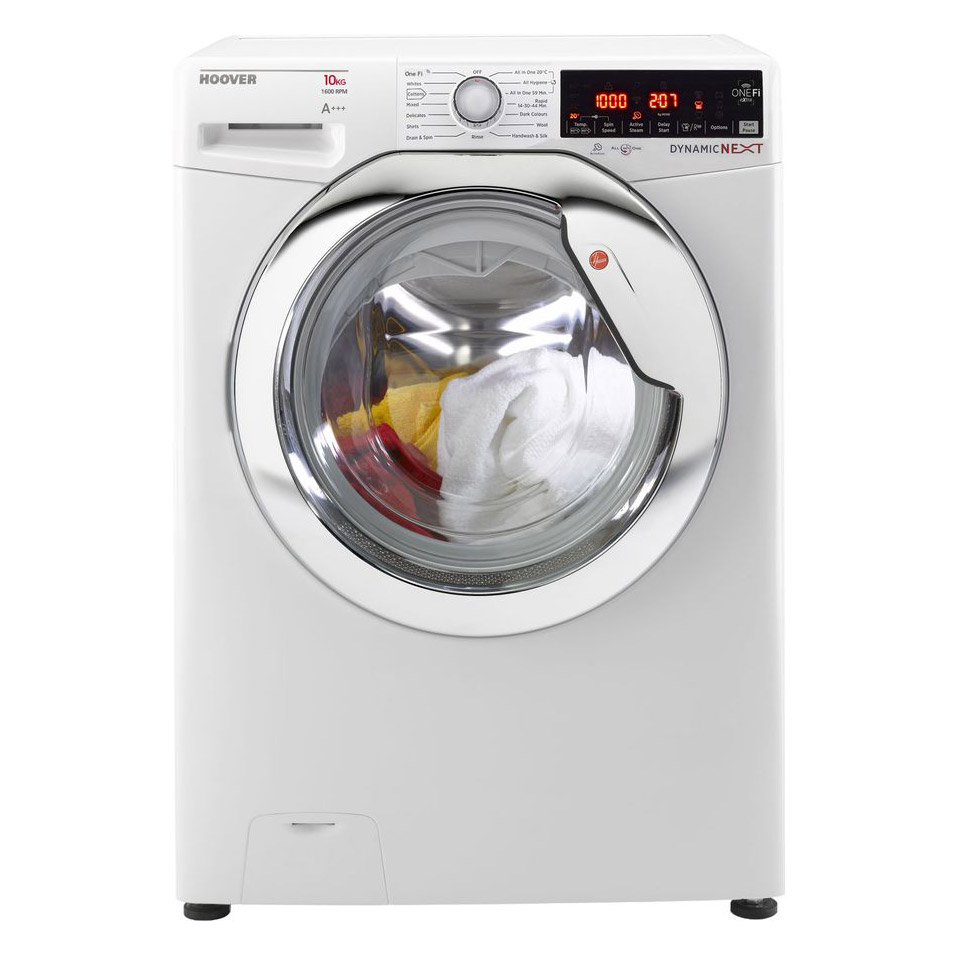 Innovative Features, Staying Connected
Equipped with an impressive 10kg capacity the Hoover can wash the same as 50 t-shirts in one cycle. This makes this washing ideal for all but the very largest of households, and certainly more than enough to help to reduce the total number of cycles needed for most.

However, this model doesn't just help reduce the number of cycles you run with a large drum. Thanks to Hoover's All In One technology you can combine multiple fabric types and even coloured and white clothing all in one cycle. This means no more waiting days to wash clothing to allow your whites to build to a full load.

Using Care Does technology you can pre-load up to 21 cycles worth of detergent at once. Then once you load your laundry the Hoover intelligently adapts the amount of detergent used to perfectly clean your garments without causing waste. The intelligent features don't stop there either.

Using Active Steam you can inject your cleaned laundry with jets of hot steam at the end of the cycle. This added boost, which you can set at three levels of intensity, means that the Hoover reduces the total amount of wrinkles in clothing and preps them perfectly for ironing.

Using the Hoover Wizards app there's no need to stay near the washing machine to monitor or tweak cycles as needed. By connecting to your phone via Wi-Fi you can not only check how long a cycle has left but also download new cycles that are specifically adapted to your needs. Have a question? By using either Alexa or Google Assistant you can ask for washing advice or even start your next cycle without even entering your utility room.

The innovative features of this model mean not only simpler laundry schedules, but also a healthier energy bill at the end of the month. Rated A+++, the Hoover is up to 20% more efficient than an A-rated washing machine. Just one of the ways the DWOAD610AHC8 is so efficient on power consumption is the KG mode. By weighing your laundry in the first 4 minutes of the programme it can adapt water, energy consumption and the length of the cleaning cycle with scientific precision.
Getting the best washing machine for your home is often challenging, even once you have picked your Hoover product you still require great customer service and delivery options in Nationwide. At Sirius Buying Group you can get the Hoover DWOAD610AHC8 Washing Machine with great service and a guaranteed excellent price, browse our Hoover Washing Machines in Nationwide for more information.